CORPORATE VIDEOS IN LONDON
DO YOU NEED A COMPELLING CORPORATE VIDEO THAT INCREASES YOUR ROI?
We create video content that engages and inspires your audience so that they will keep coming back to you so ultimately you can drive more sales.
With London being the centre for business, diversity, and innovation in the UK; we as a video production company spend most of our time working in and around the area to create all sorts of videos for our clients. Trust your Corporate video production in London to Wild Stag Studio.
London is such an inspiring city to shoot in and quite rightly is one of the most iconic in the world and has featured in so many hit movies, tv shows, and music videos since filmmaking began.
We have worked with all sorts of brands and businesses who are looking to create more engagement and drive sales by utilising storytelling, creative video, and a solution to a problem that resonates with their customers so that they can inspire them into wanting to learn more, in turn leading them to make a purchase with their company.
HOW CAN OUR CORPORATE VIDEOS BENEFIT YOU?
Our process means that we take time to understand your brand and it's values, alongside your audience's problems and aspirations so we can help you become the guide for your customer and in turn generate more results from your video content.  Rather than just making a video for the sake of it we collaborate with you to determine exactly the best solution that works for your particular business.
COMMUNICATING YOUR MESSAGE
Our process for getting the most out of the videos we create for our clients usually starts with an initial discovery call where we find out what they are looking for in a video. What are the needs and wants for their customers, and where they are wanting to eventually host their video (either on a website, for internal use, or on social media like Facebook, Instagram, or YouTube).
We tend to find that it is a mixture of platforms and it's easy for us to create social media videos from longer-form content and repurpose them as you see fit.
Next up we talk through the video marketing strategy that the company has. If this has not been defined then we offer a video masterplan workshop, where we take you through step by step what it takes to make a great video and how best to reach your target audience.
From there we start the pre-production process, creating a detailed treatment document, outlining how we are going to create your video, and then plan the shoot accordingly. Then it's on to the actual video production and editing process before we deliver it to you and can even help you distribute it to the world!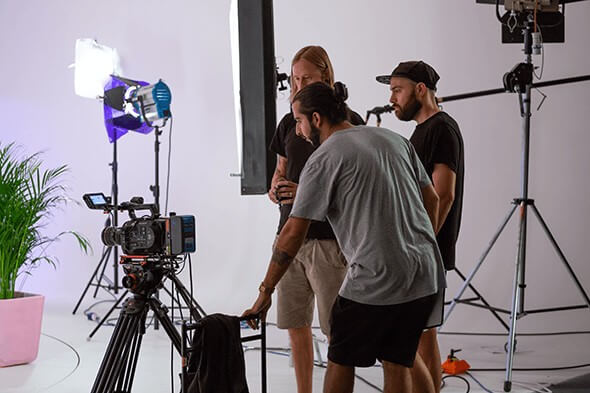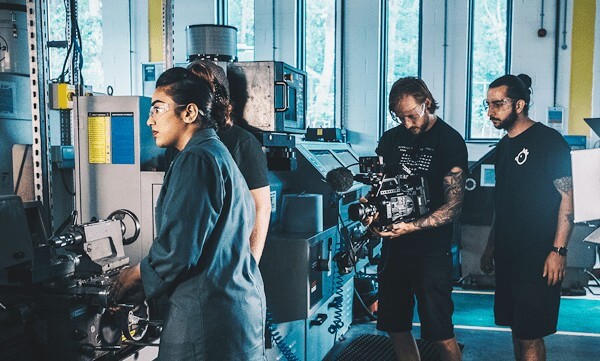 WHY USE LONDON FOR YOUR CORPORATE VIDEO LOCATION?
London has a tremendous history and as a consequence, there are all kinds of offices to stage a video shoot. In addition, top quality hotels can be used to create a high-end feel to a corporate video. Wild Stag Studio is a video production company that has specific specialisms in creating films for corporates and big business purposes. We are often shooting footage in London and have excellent knowledge of what the city has to offer. This is why we would recommend creating your video to promote your corporation in the nation's capital city. If you are looking for the best corporate video production company in London then get in touch with Wildstag Studios.
WHY YOU NEED A COMMERCIAL VIDEO
In a commercial video, you might want to showcase your impressive central London office. This would be a great place to film some shots of your team at work or perhaps an interview with your CEO who can convey the company's ethos or attitude to business or their products. Many small to medium-sized businesses don't use video in their marketing. Yet current metrics show us how important video is for marketing in 2021. 
If you are looking for event video production then we could film your conference in one of London's many event centers, theatre's or venues and even live stream it to the world from your office space or home environment via a platform like Zoom. The great thing about live streaming an event is that you get that real-world engagement which can boost your presence on social media and can generate revenue from customers who either couldn't make it to the event or didn't want to commit to traveling a long distance.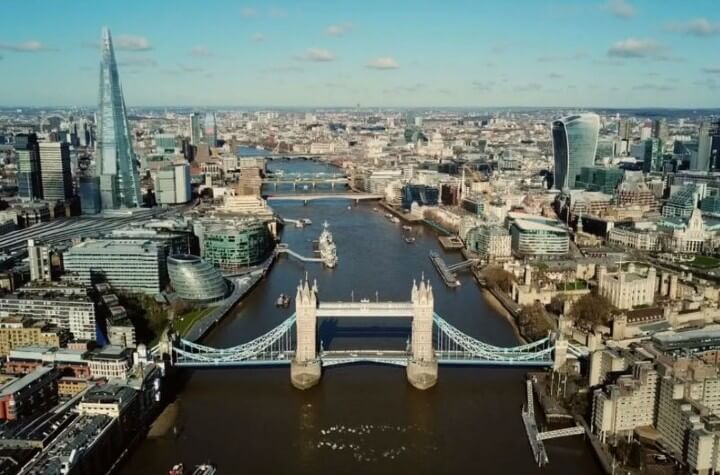 LONDON GIVES US THE OPPORTUNITY TO FOCUS ON THE LITTLE DETAILS THAT MAKE FILMS SPECIAL
There are many areas in the city that add charm, gravitas, and a sense of personality to a film that can appear dull without a bold narrative and supporting detail. When filming a corporate video production in London we like to approach a filming project with a cinematic vibe, that will provide an uplift so viewers are engaged. Wild Stag Studio does not want to produce yet another corporate video that can't be differentiated from any other.
WE LOOK FOR A DIFFERENT WAY TO COMMUNICATE A CORPORATE MESSAGE
Wild Stag Studios communicates a vision and a creative standpoint when it comes to shooting video for business purposes. Often staff members are hesitant when it comes to talking on camera. We do our very best to put them at ease even when they are operating in a corporate scenario. The backdrop or location might be formal but our films are lively and more engaging than many.
WE KNOW THAT SIMPLY READING FROM AN AUTOCUE CAN PRODUCE VERY STILTED RESULTS
Reading a script to the camera means much of the energy and individualism can be stripped out. Our video production team is highly experienced in getting the very best from 'reluctant actors'. Our aim is to offer a lively and engaging feel when making business films that will likely be shown to people who have decisions to make and what to be impressed by what they see.
Our work with Microsoft, RedBull, Anglia Ruskin, Thomas Cook, University, and Penguin Random House demonstrates the confidence companies have in our approach. When we combine creativity and flair with stunning locations within the City of London and the whole of the capital great results can be created. When you make the decision to utilise all London has to offer for your business video a whole raft of opportunities is suddenly open to your company. Your corporate message does not have to be predictable. Our aim is to develop an imaginative showcase for what you believe and what added value you can bring to potential clients.
WHY DO SO MANY CORPORATE VIDEOS FOLLOW A TEMPLATE STRUCTURE?
Watch many corporate films and videos and you start to see they follow a format. This is not something we utilise. First and foremost Wild Stag Studio is all about creating a story that is compelling. Our aim is for your corporate video, whether it's shot in London or beyond is memorable. We want viewers to feel they know what you stand for and how you go about your business. Creating a relationship with a viewer is at the heart of all our filming work.
WHY SHOULD A BUSINESS CREATE QUALITY CORPORATE VIDEO CONTENT?
When you create a strategy for your corporate content then film will play a role. We understand the importance of corporate video and it often acts as a foundation for the strategy. We know that there are three main things to consider when thinking about a corporate film:
Your corporate message should put the client at its heart. Your potential clients and customers need to be targeted directly.
Time is short. An audience will give you just a couple of seconds to engage their attention. Your message needs to be terse and cogent in one sense but imaginative and engaging in another. It's quite a skill that's important across cinema worldwide.
Often there is very little time for video production and your corporate film should work hard to craft a compelling brand perception.
We believe that every corporate need to walk in the shoes of the target audience and see things from their perspective. What is basic knowledge to you might be something completely different for a potential client. Your video might be the very first film they have watched outlining your genre or skill. Be aware that you don't confound an audience with acronyms etc. On the other hand, it's important not to appear condescending. Therefore there is a fine line to walk so that confidence and trust are instilled within a few moments.
QUICK CORPORATE VIDEO PRODUCTION IN LONDON
We have an efficient production process that results in an extremely fast turnaround time for your video production. So if your requirements are a video to enhance your virtual event or a production team to live stream an event in London We can provide a solution that can help you deliver an amazing video experience.
CAN YOU PROVIDE A VIDEO TO TIGHT DEADLINES?
Do you need fast corporate video production in London or the home counties? No problem we work quickly and can even live stream video from your event or promotion if required.
CAN I REPURPOSE VIDEO CONTENT FROM MY EVENT?
Sure we do this all the time! We can create multiple different videos from one event for you to share on social media or your own website or livestream.
WHY IS PRE-PRODUCTION SO IMPORTANT WHEN FILMING CORPORATE VIDEOS IN LONDON?
Our aim is to stop people so they are compelled to watch your corporate film. Yes, we also want to help you drive traffic to your site but what's most important is to deliver clear messages that speak to the audience so they understand exactly what you do and how you do it. We like to really nail the pre-production considerations so we can concentrate on shooting sufficient high quality footage.
We like to understand all aspects of pre-production from risk assessment to location search. Whether you want to shot a video at the foot of the famous Gherkin building or on a boat going along the Thames we plan everything. We know that it's important to scope carefully so we can make the best use of time and come in on budget every time. Wildstag Studios providing high-quality video production London every time.
When we are free to concentrate on location we create more creative output. When we have the roadmap of exactly what's required, equipment lists, a top quality script. Transport and understanding of lighting and shooting conditions we can focus on getting the very best from you. If this makes you excited for the possibilities surrounding a film shoot in London please do contact us for more details Together we can tell your story.
WILDSTAG STUDIO VIDEO AND FILM PRODUCTION IN LONDON
MAKING IDEAS INTO A REALITY
Videos are an essential part of getting your brand's message noticed, but just having a corporate film or video produced isn't enough to get noticed. The internet and social media are saturated with content, and most of it is boring or dull.
You need to stand out, and wild stag studios can help you to achieve just that. Creating original and compelling content for businesses in London just like yours. We also offer music video production in London.