Need a Surrey production
company to increase leads for
your business?
WE CAN HELP YOU:
WE CAN HELP YOU
GET MORE CUSTOMERS with a video that truly articulates your brand message.
Create the right type of video for YOUR IDEAL AUDIENCE.
INSPIRE PEOPLE into action.
ENGAGE & EXCITE
We merge a fresh approach to film with the edgy vibe that helps us create unique and effective video production. As a location, Surrey offers some extraordinary opportunities for creating exciting videos that engage and excite your audience and ultimately get you more sales.
All brands and businesses know that they need video content these days, but few stop to think about how best to go about creating the right type of videos that will actually drive sales and in turn make more money.
Read More

View Less

Many corporate videos lack creativity or a clear message that resonates with the target audience. Too often it's a very dry piece to camera from a CEO, quoting facts and figures in a stark office with shots of people at desks working. Your videos don't have to follow this overused concept.

You need to speak directly to your target market and serve their needs in the best way possible. Give them the information that they actually care about and make them feel an emotion to get them to engage with your business and want to learn more and execute it in a dynamic and creative way.

We at Wild Stag Studio can work with you to help refine this message and create a blueprint in which you can benefit from a clear direction in your video marketing strategy. Contact us today to book a free 15 minute discovery call.
UNDERSTANDING YOU
SURREY OR BEYOND WE PLAN METICULOUSLY
Our video production in Surrey has revolutionised video marketing for businesses of all sizes. With unique strategy workshops, we are equipped to provide bespoke video solutions that deliver maximum impact to your particular business objectives. From promotional videos and staff interviews, to explainer videos and 3D animations, Wild stag video production Surrey employ experts that can guide you through the entire video cycle, from initial concept right through to post-production. We take the complexity out of video production so that you can reap the rewards of deploying video in your organisation as quickly as possible.
For video production services in Surrey look no further! Not only do we provide quality video production services such as scripting, filming and post-production editing, but we also offer video marketing strategy workshops to help you create effective video content that rises to the top. We understand the importance of creating video content that meets your goals and objectives while still engaging viewers, and are here to help you get the most out of video marketing. Get in touch today to learn more about our video production services and how we can help you create the perfect video solution.

FREE VIDEO GUIDE
Click here for free access to our video guide, where Dave takes you through which types of video work best for each stage of your marketing funnel.
We hope that it provides you with some valuable insight which in turn helps your business grow and get more results with your video content.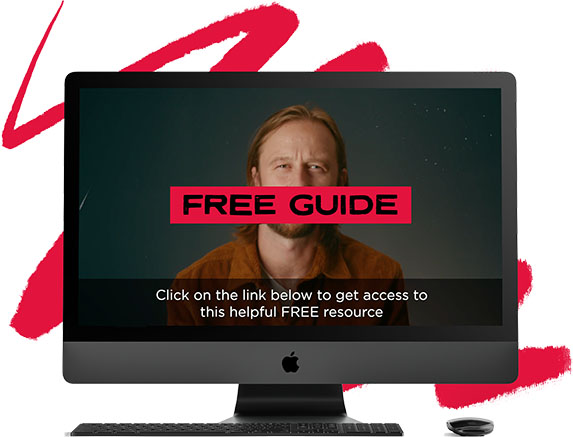 QUESTIONS
How do you create videos?
We like to really take a deep dive in to our client's business and their customers when producing video content for them to make sure we are creating videos that get the optimum engagement and results. We do this by starting off with a discovery call to see if we can be of service and then recommend one of our workshops, in which we spend a few hours in the company of our clients going through our storytelling and video strategy process. After we have a detailed plan of action it's on the the filming and editing stages where the magic truly happens and after delivery we can sit back and watch the views and likes stream in!
How many videos should my business make?
We don't think there should be a limit on how many videos you need, but we'd say that you will definitely benefit from a hero film which articulates your brand ethos and what you stand for alongside an overview of your product or service. Also Faqs, testimonials and product overviews are very important. Social networks reward regular, valuable content so the more you can create the better. Even if it's self shot. It all counts to help grow that community around your brand.
How long does a video take to make?
This all depends on the type of video being produced. For a high end, creative brand film it can take a lot longer to plan, execute and deliver with things like sound design, colour grading, animation etc. but something like a client testimonial can be shot in an afternoon and turned around within a day or two.
Do you help with coming up with the video ideas?
We are a full service video production company, which means we can handle all stages of video production from creating the concept all the way to optimising the video for online. We like to work with our clients to create concepts as they are the ones who know their businesses and customers better than anyone which is why we value our workshops so highly.
How much does a video cost?
Price all depends on what is required for the shoot and how many days are needed to execute it. We have regular video content plans which are a set fee every month, for the more social video content but when it comes to brand films and adverts we will be dictated by the video's concept. We work to our clients budget range when creating these ideas.
DO IT DIFFERENTLY
WE LIKE TO BE COLLABORATIVE IN THE FILM MAKING PROCESS
Our aim is to collaborate effectively. We listen hard to a company or individual's ideas about what message their video should portray. We do our best to offer our professional advice but also try to be open-minded about client ideas. Our aim in film production is to advise and guide. Delivering video projects on budget and on time are much appreciated by our raft of clients.
Read More

View Less

WE HAVE FILM UNITS THAT CAN BE CREATED TO SCALE UP OR DOWN

Over the years we have been able to craft high-quality video content for companies large and small. To this end, we have developed film units that can be created to scale. Our main challenge and aim are to work creatively regardless of budgets or restrictions. Basically, the idea that drives us is to deliver the video you have always dreamed of making. After all, we are both in the business of strengthening your own message and promoting brands, services, or products.

PRODUCING A VIDEO IN SURREY MAY WELL BE YOUR BEST NEXT MOVE
Therefore is producing a video is on the agenda for your business or organization, then Wild Stag Studio can definitely help. So why not use our local knowledge and squeeze the very best from some of the stunning locations around Surrey. If you are not quite sure what the next stage might be when planning a video shoot then why not chat with us and see where we might be able to help.
If you need some advice or would like to understand the pre and post-production processes that will make your film project stand out from the rest, then do give us a call. We would be delighted to see how we might help you create a video you can be proud to use. Contact Wild Stag Studio here.

VIDEO PRODUCTION IN SURREY
If you're looking to get into the world of video production and filmmaking, Surrey is an excellent place to start. This bustling city offers a multitude of resources for burgeoning videographers, such as ample film-friendly locations, access to top-of-the-line equipment rentals and lighting setups, and workshops led by renowned experts in the film industry. Whether you're just starting out or are a veteran in the field, this unique city with its vibrant culture and lush parks will give you the inspiration and skillset needed to become an accomplished filmmaker. With all these benefits on offer, choosing Surrey as a place to take your video production career is definitely a no-brainer.