STREAM IF YOU WANT TO GROW FASTER!
WE CAN HELP YOU:
WE CAN HELP YOU
Use live streams to boost your engagement.
Start a conversation with your audience in real time.
Reach people across the globe.
BOOST ENGAGEMENT
Live streaming has been thrust into the spotlight recently. Brands need to stay in touch with global audiences. Having this communication in real time engages people much more than traditional content. It also gives an extra dimension to your marketing strategy.
Read More

View Less

Here at Wild Stag Studio, we provide the tools for you to make your event, interview, product demo, webinar, interview, educational content, Q+A, live gig etc. available worldwide on platforms like YouTube, Facebook, Twitch, Periscope and more.

Our mobile, multi-cam setup (utilising up to 8 cameras) allows you to be live in moments. We can also deliver a recording of the edit on the day. This will come as an h.264 codec ready to upload to your social channels without hassle.

Traditional live streams may lack cinematic feel but we are able to colour grade in real time. With our lighting kit, we can deliver a high-quality image straight to your audience. In addition, we can also brand the stream with custom graphics, titles, background music and logos. All these add quality production value to your live broadcast.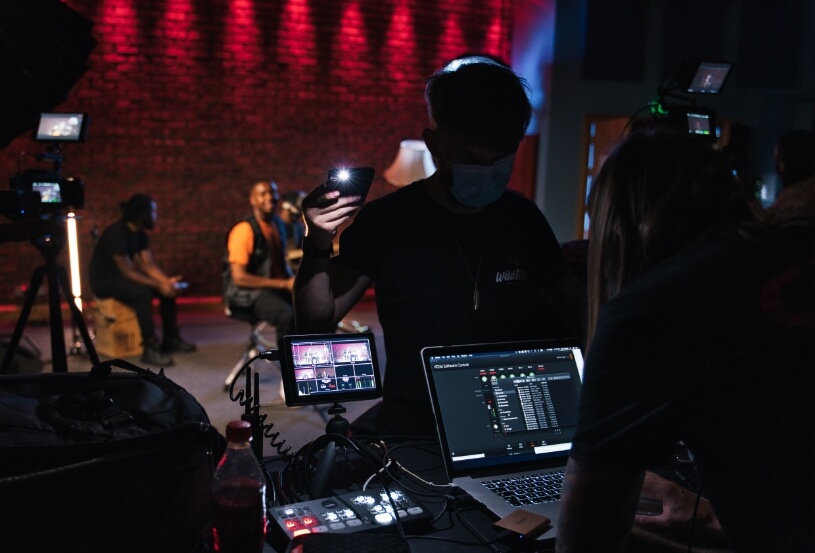 MAKE STREAMING EASY
WE CAN INCLUDE:
– Tech Support
– Pre Production
– Project Management
– Multi-Camera Filming
– Graphics And Titles
– Mobile Setup
– Branded Player
– Recording Of Stream
– On- Site Editing
– Post Production
– Highlights Delivery
FREE VIDEO GUIDE
Click here for free access to our video guide, where Dave takes you through which types of video work best for each stage of your marketing funnel.
We hope that it provides you with some valuable insight which in turn helps your business grow and get more results with your video content.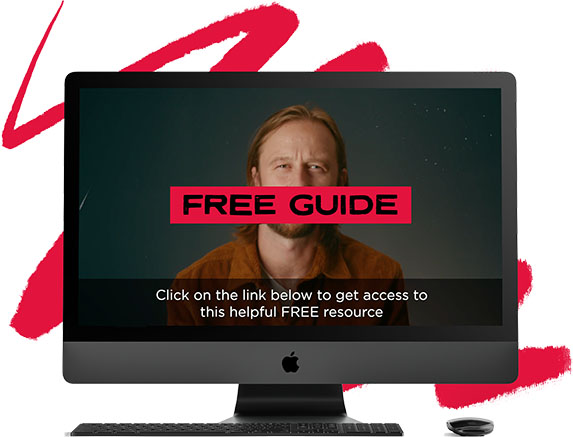 QUESTIONS
Why should I choose to live stream my event?
Physical events are limited to the number of people in the room. By deciding to stream to the internet you have a much larger reach. This means you can bring people from all over the world in real time. This keeps audiences engaged with your brand for longer than just watching a 5 minute highlights film of an event.
How long does it take to set up?
Ideally before every live streaming project we would come in a day or two before the event and recce the location. We also test the internet connection to see if connectivity is fast enough for our broadcast. It can take a few hours on the day to set up our cameras, lights, audio equipment and live streaming but timings can differ slightly depending on the job's complexity.
What do I need to provide for the crew to stream?
All we need from you is access to your internet connection! The faster the better. The ideal is a minimum speed of 4mbps but in circumstances where one cannot be provided we have the potential to set up our own. Also, a coffee or two would be lovely, thank you!
How many crew members will attend the event?
This depends on the size of the event and job that needs doing. We have a basic setup which can be operated by 1 person but can scale to a larger crew of 7 or 8 people.
Can we incorporate existing video footage or power point presentations?
Yes! We are able to take a feed from another laptop and show presentations, videos, music or anything you like to enhance your production.