WHY DO YOU NEED A
MUSIC VIDEO?
01.
A great video can catch attentions and help you Generate new fans.
02.
You can use it to promote your music with online advertising.
03.
It can increase your online engagement by sharing your visual identity.
04.
Present to industry professionals by Creating an electronic press kit.
05.
It allows your creative vision to go further and be expressed in new ways.
MUSIC VIDEO SPECIALISTS
Wild Stag Studio is a video production company based in Brighton. You may not know it but many members of our team have played music professionally, signed major record deals and each have a total of nearly 20 years' experience in the music industry.
Our aim is to craft a premium music video that makes you look awesome. After all, your visuals should help you to take a step up. It will help your sound and make your journey through the music business much smoother too.
Read More

View Less

You don't have to have a multi-million-pound budget, music videos are not just for superstars. We can live stream gigs or even rehearsals providing intimate insight for fans. Wild Stag Studio specialises in working with musicians wherever you happen to be on your journey. We create bespoke quotes for each project, so why not CONTACT US and see how we can help you.
BOOST ENGAGEMENT
Wild Stag Studio has the professional musical knowledge and technical music video experience to help you get attention!
We all know Music Videos are vital to your identity. As an artist a music video is an important part of your brand. It helps shape what people think about both you and the music. It's a visual representation of your personality and can be the difference between a music lover becoming a fan or moving away to the next artist
Read More

View Less

We think you've probably been giving the perception of your brand a lot of thought. Whether you are a band, solo artist, orchestra or other performance artist the visual perception in a music video is an essential element in your overall branding. It's a fact of life and helps your audience appreciate the whole you. They get a real insight into who you are as an artist.

A music video reaches the parts other media sometimes miss. We have worked with pop, rock, funk, RnB, grime, metal, classical, dance, soul artists and everything in between! So, just tell us what you are looking to create.

If you want to create a compelling music video then your journey starts here.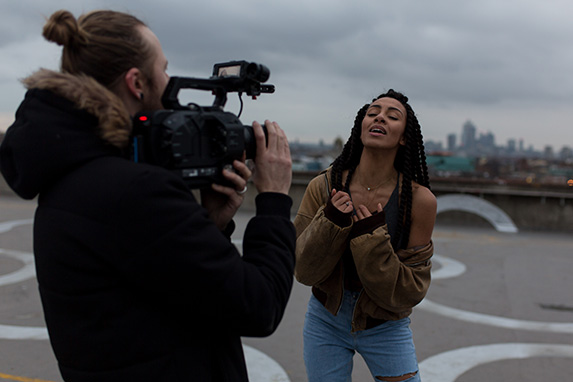 VIDEO TO SUIT YOU
WE CAN OFFER:
– Concept Consultation
– Performance Videos
– Narrative Videos
– Lyric Videos
– Live Sessions
– Studio Sessions
– Multi Cam Live Streaming
QUESTIONS
How much does a music video cost?
Our narrative videos start from £2000+vat and performance videos start from £1500+vat
But every music video we create is bespoke to the artist. Therefore price depends on the creative concept for the video, whether styling, make up, props, actors, locations etc are needed.
It's best to BOOK A CALL to speak to us so we can find out what you are looking to achieve and your budget range then we can send over an itemised quote for you which breaks down what can be achieved for you.
What kinds of music videos do you make?
We love creating performance music videos, narrative music videos, live session music videos, live streamed performances, multicam gig videos, lyric videos, behind the scenes videos and anything else you can think of that is music related!
How long does a video take to create?
Again, this all depends on how complex the video is, but generally from the project getting the green light we would suggest a minimum of 2-3 weeks to plan and organise a music video and then around a month after the shoot date for a final signed off product. We are able to work faster if needed, but those are our realistic time frames.
Do you come up with scripts and creative concepts?
Yes we do! In our initial meeting we like to ask our clients to provide us at least with some references of the types of videos they like, or a mood board if possible and then one of our talented directors will work on a creative concept and script for the music video which will get the green light from the client before we start production. If you already have a concept though, we are very happy to execute that for you too!
How many rounds of amendments do I get?
All of our quotes include up to two rounds of changes. Any further changes will be charged at £75+vat per hour.
Can you travel to film my music video?
We are happy to travel anywhere in the world as long as the government says it's safe and above board to do so! Any travel expenses and hotel costs will be included in your bespoke quote if needed.
How do you take payments?
We ask for a 50% deposit to secure a booking once the bespoke quote has been signed off by you and we ask you to sign and return our terms and conditions before we can start work on your project. Our final invoice will be sent once you have signed off on the edits and we deliver a downloadable link to the file upon final payment being received.