EDUCATIONAL VIDEO PRODUCTION COMPANY
WE SPECIALISE IN VIDEO CONTENT CREATION FOR SCHOOLS AND UNIVERSITIES
Are you looking to recruit more students? Utilising an engaging video strategy can speak to potential learners and inspire them to take the step to joining your school, college or university.
HOW WE CAN HELP
Wild Stag Studio is an experienced video production company with significant expertise in video content for the education sector.
We're here to help you create outstanding, engaging media and strive to create videos and films with memorable impact on students who are thinking of studying with you. Our films will make your institution stand out from the crowd.
Wild Stag Studio regularly produces promotional films for education establishments. We work hard to make sure you take delivery of high-quality, dynamic and innovative promotional materials that serve all your needs and give you a consistent ROI and are on hand to assist you on every step of the production process and beyond.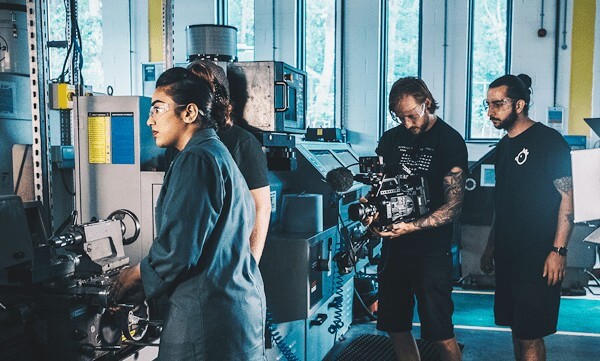 Marketing has been flipped on its head in 2020. Live streaming services have been the go to solution for many.  This means you can communicate your message creatively and directly. Multi-camera live video webinars, seminars and tutorials can be highly engaging. When audiences participate, this marketing device is extremely powerful especially when they are delivered professionally to television broadcast quality. We can now provide this service to connect and engage with a wider audience in real time.
Making educational videos for the education sector in London and Brighton as well as Universities and schools across the UK. Our services include short educational videos with high production values to create a high quality film to help promote your University or School.
WE CAN HELP YOU REACH DIFFERENT KINDS OF STUDENTS
With a professional and creative video, you will be able to communicate your philosophy, expertise and unique culture quickly and effectively. A student recruitment film is a must for every platform. We get that different HE organisations want campaign videos with a different aesthetic vibe. You might want to highlight location, expertise, reputation or a combination of these qualities. Whether you want a film to promote your institution towards international student recruitment or need a film to increase outreach and inclusion, we really are expert promotional video creators.
WHAT TYPE OF VIDEO CONTENT WORKS BEST?
Creating hero content is an attractive and economical way of increasing  student recruitment. Telling a story rather than selling the service can create so much more impact and leave a lasting impression on any prospective student.
We can help you make full use of your video showcase by segmenting and repurposing it to produce social edits. We can also make sure your webpage headers, on campus screens and specific departments can also benefit from the power of visual storytelling.
At Wild Stag Studio we regularly optimise films to use on Instagram stories and other social platforms.
ENGAGE, INFORM AND INSPIRE STUDENTS WITH CREATIVE RICH MEDIA
If you are wondering whether you should commission a promotional film or marketing videos then Wild Stag Studio will advise about the best way of creating punchy edits to appeal to the different decision-makers; students want one thing, parents and guardians are interested in more technical information. Your video will engage, inform and develop a real connection with all target audiences.
EDUCATIONAL VIDEO PRODUCTION COMPANY IN BRIGHTON AND LONDON
We work with Universities and schools across the UK and have offices in Brighton and London to help produce the educational videos you need.